Dimitri HK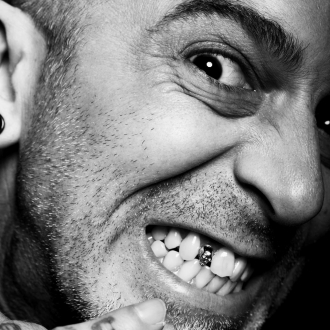 Dimitri HK begins his tattoo artist career in the Val Fourré, in Mantes la Jolie in 1990. Big Up old crook! The first years, he travels between the atlantic and the mediterranean coast… Finally he opens his own tattoo parlour in 1995, in an old brothel of Saint Germain en Laye (true story!).
Times have changed and a new, spacier studio opens in 2003.
Dimitri Hk tried to play guitar for 14 years in the punk rock band Happy Kolo; He also creates Around The Caps, his publishing house in 2008 and continues painting and doing exhibitions. Now his new adventure, without neglecting his tattoos, is his application available on App Store and Google play: "INKERS" which includes a magazine, digital books, prints, etc.
You can discover the app by cliking on the links you can find all around the website!
Gallery